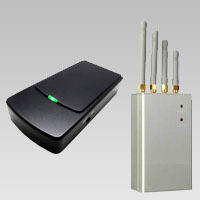 SPECIFICATION
Cover interface standards: Digital : IDEN, TDMA, CDMA, GSM, UMTS
Analog: AMPS, NMT, N-AMPS, TACS
Effective Range: Up to 8 Meters Radius
Internal Omnidirectional Antenna
Battery: Li-on battery 1200mA/h
Work time: 120 minutes
Top Hidden .It seems that it is not a jammer.
Built-in antennas, and insulate per antenna, which make sure that work more efficiently.
Replacing Battery is very easy, as we take off the battery from the mobile phone
Be able to be charged with Nokia charger.
High Quailty Design, Low heat. It can continue to work 365days with charger.
On /Off Key for Jammer
1) Press this button to turn on the machine.
2 ) When Green LED in the front side is power-on, it means the jammer is working normally
3 ) Red Led light in the front side means it is in the charging.
When charging for the jammer, the Red Led Light will be power-on .
While the inside battery is charged full, the LED light will be off automatically.
4) Be able to Work and Charge simultaneously
When working and charging simultaneously, the Red and Green Led lights are both power-on
5) Easy Battery change
When we use it in outdoor, charge is difficult. It can be easy to Change battery, just like changing the battery for a mobile phone.